Magazine
04.29.20
3 QUESTIONS TO MAHESH CHAUHAN, FINE LEATHER CRAFTSMAN AT JEAN ROUSSEAU
Mahesh Chauhan is one of the two fine leather craftsmen at Jean Rousseau London. Specialised in making bespoke watchstraps, he also realises small leather goods such as credit card holders, comb sleeves and wallets. Today, he explains how precise his work is.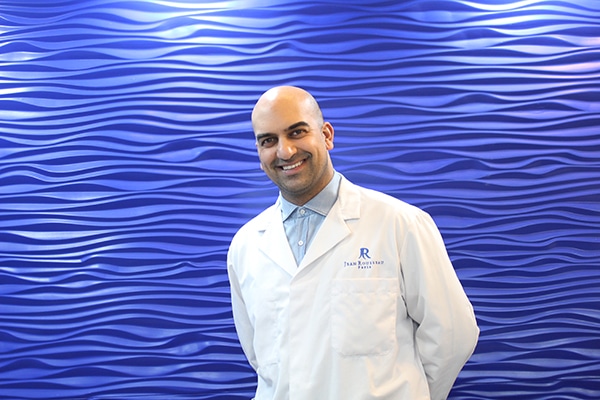 1. Which skills does customisation require?
A person working in our field need to have patience, a trained eye for detail and passion. When I joined Jean Rousseau, I was set up for a period of 6 weeks training in the French Manufacture. The Manufacture is like a science lab: the white lab coats, the specific tools for each component of the strap, the organisation, the professionalism, not to mention the tannery where all the beautiful colours come to life on exotic skins.
I was trained by Nathalie, one of the best – if not the best – bespoke strap maker. I couldn't have been more lucky or ecstatic about it. Shadowing someone who pays such attention to detail and worked with such a high standard really set the bar for me.
The technicalities behind making a small article are unreal! We even account for glue adding to the overall thickness of a strap. My lack of mathematical skills was challenged as making a strap with intricate details require thinking ahead and compensating for lengths and widths. I realised the precision that was involved and how important it was to measure twice or thrice and cut once.
2. How do you make sure you answer your clients' expectations?
Many clients are either watch collectors or have sentimental timepieces that they wish to keep alive with an original aesthetic. Some watches we see go as far back as World War I! Customisation requires making a like-a-glove fit watchstrap. It can be challenging due to the client's wrist size. In the London boutique, we consult a client to collect his or her requirements, bouncing ideas of one another, and then create a technical drawing to make sure we understood his/her vision. We'll even bring the client's vision to life with a tangible prototype. Having carried this out, we can make adjustments and tweak the design as necessary, reassuring both parties that the final product will be floorless and go even beyond the clients' expectations.
3. What was the craziest demand you dealt with so far?
We have clients with wild ideas and colour combinations, also marrying two different types of exotic skins together. I have seen a client requesting three different colours on her strap: the buckle side of the strap was in an emerald green, the long side of the strap in turquoise blue and her lining in white, all in alligator. Then the loops/keepers were in individual colours corresponding to the strap, one blue and one green. I really love it when clients use their own imagination and creativity to put into a strap.